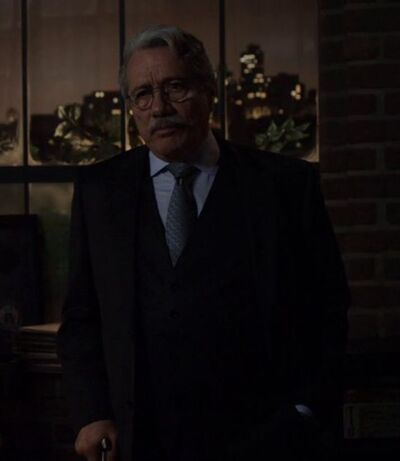 Robert Gonzales était un officier du S.H.I.E.L.D.. Dès son recrutement, il devint un agent doué et discipliné. Cependant, il quitta le front après la mort de sa femme mais y retourna quand même. Trois ans plus tard, il devint le commandant de l'Iliad. Durant le conflit, alors qu'il commandait sur l'Iliad, il fut attaqué par des agents de l'HYDRA qui le blessèrent gravemment au genou avec une hache mais parvint à tous les tuer. Alors qu'il agonisait sur le sol, il fut retrouvé par Isabelle Hartley, Bobbi Morse et Alphonso Mackenzie qui l'aidèrent à s'enfuir de la base. Ce faisant, il réussit à reprendre le contrôle de sa facilité en liquidant tout les oppresseurs. Après l'échec de l'HYDRA, il décida de former une nouvelle faction du S.H.I.E.L.D. qui s'opposerait aux idéaux de Nick Fury. Plus tard, il recruta Morse, Mackenzie et Anne Weaver pour l'assister. Ne faisant pas confiance au Directeur Coulson pour diriger, il envoya Hartley, Morse et Mackenzie infiltrer son équipe pour l'évaluer. Un jour, il apprit par l'intermédiaire de Mack que Lance Hunter était devenu suspicieux envers lui et Morse et ordonna à Mack de le lui emmener. Peu après, il rencontra Hunter et l'accueilla chaudemment pour ensuite lui expliquer sa vision globale vision du S.H.I.E.L.D.. Durant son discours, il lui bourra le crâne avec l'inaptitude de Coulson ainsi que la mort d'Hartley et de l'Agent Antoine Triplett. Après l'avoir sermonné, il fut surprit d'apprendre qu'Hunter était d'accord avec lui sur certains points. Plus tard, Gonzales apprit qu'Hunter s'était enfuit de sa base et consulta le conseil pour savoir le temps nécéssaire pour l'appréhender. Ensuite, il envoya Morse à ses trousses et renvoya Mackenzie au Terrain de jeu pour continuer son enquête. Par la suite, il ordonna à ses agents d'attaquer le Terrain de jeu et resta en contact avec Morse pour suivre la procédure. Plus tard, il se rendit sur les lieux et trouva Mackenzie inconscient et ordonna aux médecins de le guérir. Après avoir prit d'assaut la base au complet, il réclama la présence de Coulson et s'entretenu avec lui sur leurs passés. Ensuite, il lui demande de lui ouvrir la Boîte à outils mais réalisa que Coulson refusait. Alors qu'il le sermonnait sur le Projet Insight, il fut tiré dans le dos par l'Agent Melinda May avec un I.C.E.R. et s'écroula par terre. À son réveil, il apercut Morse revenir de mission at apprit l'état de l'Agent Tomás Calderon après une altercation avec Quake. Peu après, il approcha l'Agent Leo Fitz pour lui demander d'ouvrir la Boîte à outils et tenta de le recruter au sein de sa faction mais en vain. Après avoir longuement réfléchit, Gonzales recruta May et décida de travailler avec Coulson pour unir leurs forces contre l'HYDRA. Ensuite, il apprit par celui-ci que le Baron Strucker possédait une base qui lui servait de lieu d'expérimentations sur des êtres surhumains. Après avoir consulté longuement celui-ci, il se mit d'accord pour envahir la base et ainsi libérer Deathlok et Lincoln Campbell. Après avoir réussit la mission, il organisa avec Coulson le déploiement des Vengeurs en Sokovie pour appréhender Strucker et suivit l'assaut de près depuis son bureau. Après la défaite d'Ultron face aux Vengeurs, il arrangea un rendez-vous avec Coulson pour discuter des évènements récents et accepta de rejoindre ses rangs. Peu après, il recut l'alarme que le Liseur avait débarqué sur l'Iliad pour dérober une pierre Kree. Après cela, il réussit à retracer le téléporteur à l'Afterlife et songea sérieusement à s'y rendre. Au-lieu d'attaquer la base, Gonzales se mit d'accord avec Coulson pour simplement de s'asseoir avec eux et discuter affaires. Rendu là-bas, Gonzales rencontra le Dr. Jiaying et conversa avec elle sur leurs cicatrices communes et leurs motivations. Cependant, Gonzales énerva celle-ci en se comparant à elle et fut exposé aux Brumes terrigènes après l'explosion d'un cristal et se pétrifia avant de pouvoir riposter. Ensuite, son pistolet fut saisit de force par celle-ci qui se tira deux fois dans l'épaule pour faire croire à une attaque.
Section heading
[
]
Write the first section of your page here.
Section heading
[
]
Write the second section of your page here.