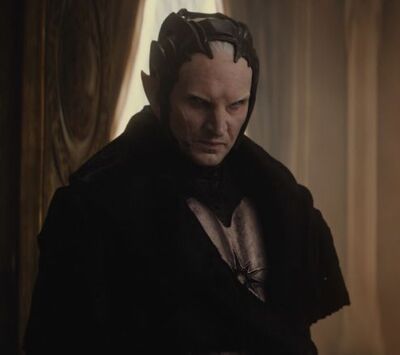 Malékith le Maudit
 était le dirigeant cruel des
Elfes Noirs
, une race d'êtres se disant plus ancienne que l'univers elle-même. Né dans les ténèbres,
Malékith
a conduit son peuple dans une guerre contre les
Asgardiens
, mais ils ont été considérés comme ayant été détruit il y a des milliers d'années.
Malékith
survécut, cependant, il cherche désormais un moyen de transformer l'univers, la plongeant de nouveau dans les ténèbres. Après avoir été réveillé des ténèbres par
L'Éther
, il le localisa à
Asgard
 via
Jane Foster
 et s'y rendit pour le récupérer et ainsi relancer la 
Convergence
. C'est seulement rendu à
Asgard
qu'il engagea un combat avec
Frigga
 pour s'approprier
L'Éther
,
lorsque qu'il se rendit compte que
Jane
n'était qu'un hologramme,
Kurse
 retenu
Frigga
 et la poignarda dans le dos, l'épargant assez longtemp pour que
Thor
 la voit s'éteindre tandis qu'ils prirent la fuite. Plus tard, à
Svartalfheim
,
Thor
et
Loki
 engagèrent un combat avec
lui
,
Kurse
et leurs
Elfes Noirs
, un combat qui se passit de
Svartalfheim
jusqu'a
Greenwich
,
Malékith
mourra après avoir été écrasé par un de ses vaisseaux après avoir été téléporté dans un trou noir.
Cercle Social
Edit
Section heading
Edit
Write the second section of your page here.
Community content is available under
CC-BY-SA
unless otherwise noted.