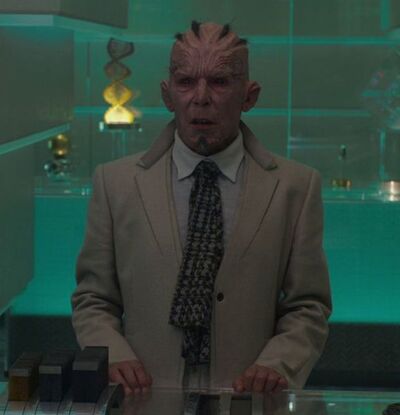 Le Courtier est un marchand travaillant à Xandar ayant accepté d'acheter le Globe aux Ravageurs. Durant un moment précis de sa vie, il fut contacté par Yondu Udonta qui souhaitait obtenir l'artéfact pour en suite le vendre à travers lui. Lorsque Star-Lord fut informé du marché, il quitta les Ravageurs pour voler le Globe à Morag. Il l'emmena par la suite au Courtier à Xandar dans le but de lui vendre. Cependant, durant toute la procédure, celui-ci le questionna sans cesse et appris que l'artéfact était également recherché par Ronan l'Accusateur. En craignant de mourir en s'emparant du Globe, il le refusa brusquement et expulsa Quill hors de son magasin.
Section heading
[
]
Write the first section of your page here.
Section heading
[
]
Write the second section of your page here.