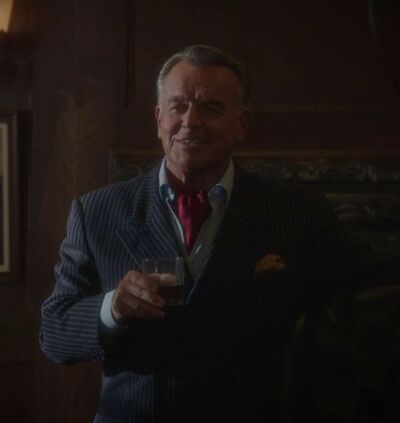 Hugh Jones était le dirigeant de la Roxxon Corporation. En 1929, il apprit que l'économie allait s'écrouler subitement dû à un évènement contrôlé. Malgré tout, Jones parvint à s'en mettre plein les poches et réussit à vivre aisément pendant les années qui suivirent. En 1946, il tenta de faire affaires avec Howard Stark pour lui vendre une de ses usines mais changea d'idée lorsqu'il apprit que sa femme avait une liaison avec lui. Après l'explosion de sa raffinerie dû au Nitramene, il fut visité par le Directeur Dooley et l'Agent Thompson de la RSS pour investigation. Durant leur rencontre, Jones déclara qu'il fut autrefois ami avec Stark jusqu'a ce que sa propre femme s'interpose entre les deux. Par la suite, il déclara avoir envoyé des taupes à Stark Industries pour espionner leurs travaux sur le Nitramene. Par la suite, par l'initiative de Dooley, il recut la visite de Peggy Carter et passa tout ses employés au peigne fin pour éviter l'intoxication au Nitramene. Durant les tests, l'un d'eux reconnu le visage de Carter et pris la fuite pour être ensuite assomé et arrêté par celle-ci d'après les directives de Jones. Plus tard, il se rendit à la réunion du conseil et assista ses collègues pour informer Calvin Chadwick qu'Isodyne Energy devrait fermer ses portes pour de bon. Malgré le désaccord de celui-ci, Jones lui recommenda de l'écouter et lui révéla que la décision était finale.
Section heading
Edit
Write the first section of your page here.
Section heading
Edit
Write the second section of your page here.
Community content is available under
CC-BY-SA
unless otherwise noted.