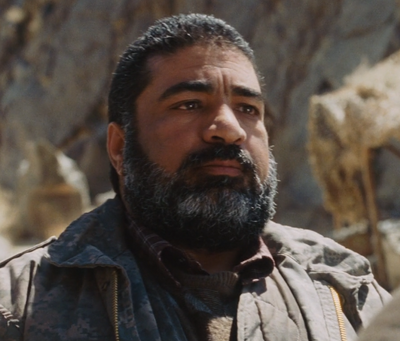 Abu Bakaar 
était l'un des alliés de
Raza
 ainsi qu'un membre des 
Dix Anneaux
. Un jour, alors que
Tony Stark
 présentait son 
Missile Jericho
 aux 
Forces Armées Américaines
, il arriva sur les lieux avec d'autres terroristes et le kidnappa. Peu après, il recruta
Stark
et lui demanda de construire une copie du missile avec l'aide du 
Dr. Ho Yinsen
. Après plusieurs mois, alors qu'il partit vérifier le progrès de
Stark
, il fut surpris par
Yinsen
qui se rua vers lui avec une mitraillette pour faire diversion. Cependant,
Bakaar
réussit à se planquer et rejoignit ses collègues pour prendre
Yinsen
en embuscade et le fusiller à mort. Plus tard, alors qu'il dépouillat les habitants de
Gulmira
 à la recherche de métaux, il s'acharna sur un père de famille et le tabassa violemment devant son fils par pure colère. Cependant, il apercut 
Iron Man
 arriver sur les lieux et liquider tout ses hommes. En tentant de se cacher de lui, il fut projeté par terre de force et tabassé à mort par les habitants d'après l'autorisation d'
Iron Man
.
Cercle Social
Edit
Section heading
Edit
Write the second section of your page here.