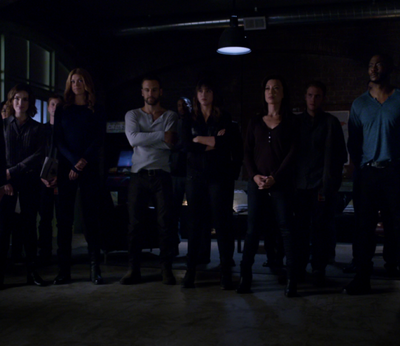 L'Équipe de Coulson est un regroupement d'agents ayant été fondé par l'Agent Melinda May dans le but de veiller sur l'Agent Phil Coulson d'après les ordres du Directeur Nick Fury. Après la résurrection de celui-ci, May assembla une équipe pour investiguer sur les dossiers encore irrésolus par le S.H.I.E.L.D.. Cependant, leur objectif devint plus sérieux lorsque l'HYDRA refit surface et révéla que plusieurs alliés dont John Garrett, Jasper Sitwell et Grant Ward en faisaient parti. Maintenant reconnus comme menaces potentielle après cette révélation, ils effacèrent toutes traces de leur existence et neutralisèrent tout les effectifs ayant gangrèné leur agence. Après avoir tués Garrett, ils repartirent construirent le S.H.I.E.L.D. sans se rendre compte que l'un des plus haut placé de l'HYDRA était revenu à la vie et qu'il s'était allié avec le Dr. Calvin Zabo et Ward pour tuer Coulson. Cependant, celui-ci fut tué par Coulson tandis que Daisy Johnson et Raina furent transformés en Inhumains.
Section heading
Edit
Write the second section of your page here.
Community content is available under
CC-BY-SA
unless otherwise noted.